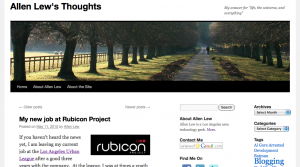 With the long 4th of July Weekend, I thought it was time for my yearly site refresh.  After upgrading to WordPress 3.0 (which has a number of advanced features like Custom Post Types and Multiple Sites installations), I decided to make two major cosmetic changes to the site.
I decided to change the site's theme to Thirty Ten, a three-column version of the new WordPress default theme, Twenty Ten.  Like all of the times I change themes, the old theme is still pretty good, but I just felt the need to experiment with a new design.  I especially like that asides have been given their own style and that it's easy to place my own header images (which I hope to do in the coming weeks).
Since I recently joined up with an online advertising company, I wanted to understand more about the business.  So I reactivated my Google Adsense account, and decided to place ads on my site and feed.  I had resisted putting ads on my site since I first started it (which when I think about it seems odd, since I was making less money then I do now), but it felt right to try this out.   We'll see how this experiment goes.
So check feel free to check out my new web site at allen.alew.org.